CUTS
25 - 55
includes consultation, invigorating shampoo, signature relaxation massage, and complimentary heat styling of your choice
The best cut and grow out you will ever have! At Saint Salon, we believe using gender to label cuts and styles is outdated, therefore, we charge by the time it takes to create your style. This ensures you are getting charged properly for our artistry, and to not punish you for having long hair or a less intricate style. if you have any questions, feel free to call, we would love to hear from you
$45 | 3o minute haircut
most clients fall in this category. a custom precision cut for people with average hair. many styles fit in this price realm. yes long layers, this is you!
$50 | 45 minute haircut
clients that need a little more hair love fall in this category. cuts that require more detail work and dry cutting after blow dry to achieve perfect blends and finely carved accent pieces
$55  | 1 hour or longer haircut
we tame your mane! clients that fall in this category need serious time to create their look. artistic cuts that require multiple cutting techniques. your hair needs extra pampering than most
$25 |  traditional clipper cut, barber style
modern styles from clean fades to movable texture. hard parts, short to long, any barber style cut you have dreamed of. we can even make thin hair look thick. magic!
$25 | wee ones 12 and under
we treat your wee one to an adult style haircut. with patience and friendliness, we create a lovely experience for your family. oh, and enviable hair as well
regrowth | color
60
for those that need just 'a touch up' at the scalp
regrowth and balance | full color
90
for those that want to change their all-over natural color or those that need a regrowth touch up and refreshed ends
double process | lift and deposit
125
solid blonde. for the blondest of all blondes. lighten and tone. we'll blonde you like we mean it!
color melt
120 | add on with lightening service + 60
that multidimensional blend from dark to light color, over the whole head. you have seen it, loved it, now get it!
glaze | toner
35 | add on with color + 25
a little bit of color goes a long way. adds more warmth, shine, protection, and all of the above without shifting the depth of your natural hair. perfect for those new to hair color. no commitment, rendezvous with a glaze as you please
fantasy color | vivids | mermaid hair
175 + | 125+ touch ups after first session
boom. the most colorful of the colorful. live wild and free. starts by doing a platinum card, followed by a toner for a clean slate to paint on, ends with colorful radness
color correction
90 per hour
oh no, what happened? don't worry, we got you. with educated hands, kindness, and years of experience, you will love your hair again. color corrections are time consuming and it is an intense process that uses various techniques and costly products. hourly charge is priced in your favor. everything included
TRADITIONAL FOIL
the OG (original gangster) foil. time tested and trusted throughout the years. we need not say more about this classic, but we will! from the high highlights, to the low lowlights, you can't go wrong with any  combination you choose for dimensional color throughout your hair (and if you do we will stop you and suggest a more fitting color, that's what we are here for)
traditional foil | face frame
60 | with color 90 | with full color 105
a few kisses of light, focusing foils around the frame of the face
traditional foil | partial 
100 | with color 130 | with full color 145
a nice burst of light, focusing foils where the sun naturally hits the head, from the occipital bone and above
traditional foil | full foil
130 | with color 160 | with full color 175
a generous amount of foils all over the whole head to create contrast and brighten your hair
BALAYAGE
hand painted goodness. hand painting creates a natural, 'lived-in' look. dimension is kept at the scalp, incorporating highlighted pieces while delivering the most lightness and brightness, on the ends. the more painted pieces, the overall lighter your hair will be. with balayage you have a blended grow out and less upkeep. a favorite amongst those that want less maintenance
balayage | face frame
75 | with color 105 | with full color 120
a few kisses of light, hand painted around the frame of the face
balayage | partial
125 | with color 155 | with full color 170
a nice burst of light, hand painted where the sun naturally hits the head, above the occipital bone
balayage | full
155 | with color 185 | with full color 200
hand painting that lightens the whole head
BABYLIGHTS | MICRO FOILS
 foils for days (emphasis on the 'days' part). Saint's signature lightening service. a million foils and tiny weaves through every inch of your hair, blending your natural color and lightened pieces meticulously. this creates a natural grow out, and believable color on any level of lightness or tone. no harsh lines during grow out. no harsh lines, period. be as light as you want, believably
babylights / micro foil | face frame
75 | with color 105 | with full color 120
the sweetest of sweet kisses of light around your face and a few sprinkled on your crown for good measure
babylights / micro foil | partial
145 regrowth | 195 scalp to ends
tiny weaves strategically placed around the face, the crown of your head, and anywhere above the occipital bone. more dimension is left between foils, mostly where the sun doesn't shine. it's okay to laugh, we are only serious about how amazing your hair looks
babylights / micro foils | full
170 regrowth | 230 scalp to ends
tiny weaves through every inch of your hair using Saint Salon's signature micro foiling technique to create the lightest, brightest, and boldest blonde. a favorite amongst those that love being 'all over blonde' and want to extend time between services, without having the harsh grow out of a double process blonde
signature saint blow dry 
30
feeling fancy? allow us the pleasure of styling your beautiful self! enjoy an invigorating shampoo followed by a relaxing massage as we condition your tresses. round brush style to follow
bring the heat!
40 | 30 heat without wash
our signature Saint blow dry with heat styling. your choice, curls or flat iron. go ahead, shine bright, we love it xoxo
those braids
65 | 50 braids without wash
channel your inner Khaleesi with ethereal, boho braids. you know 'those braids', they live on instagram and pinterest, now they have found dwelling on your head
 glamorous occasions | up-styles and more
65 | with or without wash
walk the red carpet wherever you go with our personalized styling for times to remember. bonus points if you just want to glam up and sit at home to binge on Netflix. complimentary consultation required by phone or in person
editorial styling
per hour or per project/shoot | please inquiry about rates
owner and master stylist, Donna Sudweeks, specializes in freelance creative styling. she has years of experience working behind the scenes for avant-garde fashion and boudoir shoots. her styling techniques bring out models charm and allure in front of the camera. having owned 4ten media, a multi media company, she can execute expressing your vision or guide you in a new direction if you seek to create a new one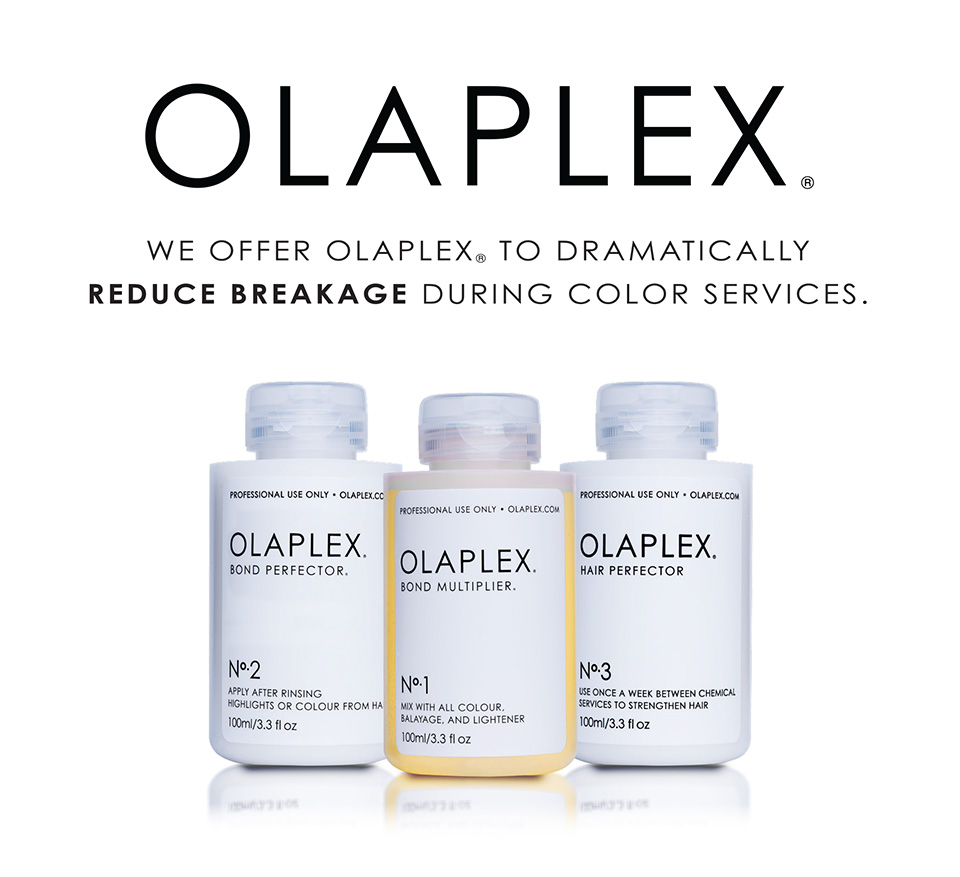 olaplex 
stand alone treatment
30 alone | 45 with blow dry style
 used as healing cutting lotion only
10
olaplex | add-on service with color
25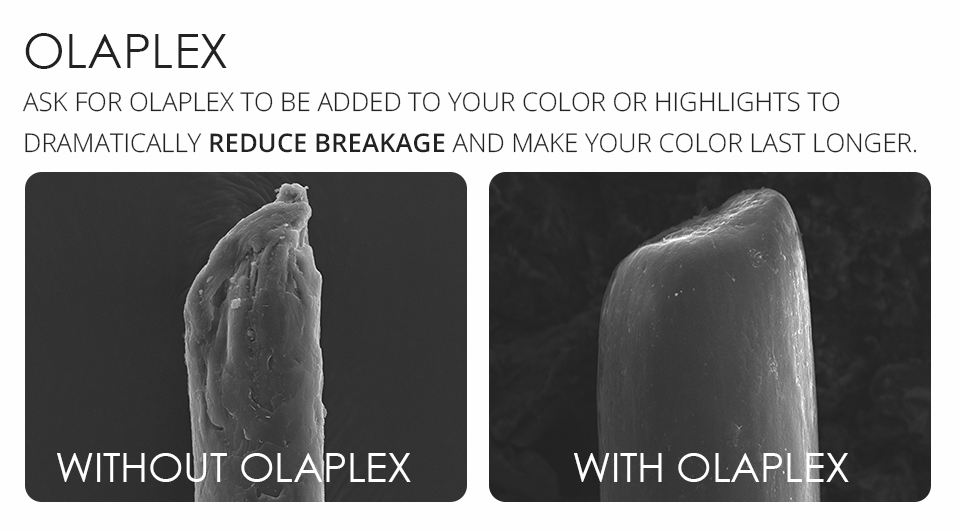 What is Olaplex? Olaplex works on a molecular level to seek out broken bonds in the hair that are caused by chemical, thermal, and mechanical damage. You can use Olaplex to restore compromised hair, or add it to another service to provide the ultimate breakage insurance.
malibu c | moisture
10
delivers intensive moisture to nutrient-starved strand, deeply penetrates to restore dry, brittle hair
malibu c | protein
10
repairs elasticity to help prevent breakage, seeks out only weak strands of hair in need of repair
malibu c | shine
10
creates radiant shine and enhanced combability, tames frizzy, unmanageable tresses
brow
15
this isn't just any kind of brow wax, this is a brow wax of sheer perfection. brows frame your face, we know how important they are. brows are the business
lip
13
we can't promise it won't hurt, but we will be as gentle as possible. who knows you might even like it? well, you will love the hair free result at least
chin
13
chinny-chin-chins
wax my whole face!
25
sure, sounds like fun. we got you. every little thing you can wax on your face. brows, lip, chin, the works
Disclaimer
Due to the science of hair color, we can only guarantee our work if you use a professional shampoo and conditioner at home. Grocery store shampoo destroys hair color. Every client receives  complimentary education on how to maintain their color and chosen style at home to ensure your hair remains healthy and beautiful in between appointments.
Please note that prices are starting prices only and there may be additional charges added for length and thickness due to color use. It is our clients responsibility to request the price before the service starts.
We do not offer refunds. If you are not happy with your service, we will work you to to achieve your goal if you are not on the same page with us about the style you received, within reason.
Due to the nature of fantasy color and silver colored hair, please note they all eventually fade. Embrace the fade. Fading fantasy color transitions and turns into many other beautiful hues. Please be aware of this when booking these services.