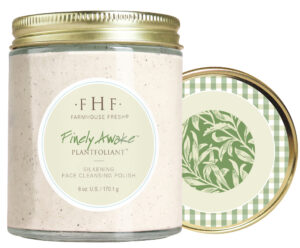 Our Farmhouse Fresh facials will quickly become part of your beauty ritual. Using all natural ingredients, every facial is detailed to our guests individual skin concerns and needs.
Express Facial
No Extractions
30 min | 40
Traditional Facial
60 min | 80
Luxury Facial Menu
60 min | 100
Choose a facial from our list below or, your esthetician can assist in choosing what facial is best for your skin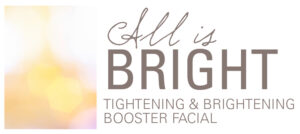 All Is Bright Tightening & Brightening Booster 
THE MOOD: Let's glow!
THE EXPERIENCE: Read More
This facial begins with a hydrating Green Tea Milk Wash and sugary sweet shea butter scrub that will cleanse, moisturize, and invigorate your skin. A cactus-infused toning gel increases circulation and improves elasticity, giving you the perfect holiday glow. Next, a clinical peptide facial serum works to banish discolorations, and a powerhouse eye serum sends crow's feet and lines on the run. A firming peptide Three Milk Moisturizer soothes skin -- and after a quick steamed towel compress infused with glistening and plumping Agave Nectar Oil -- your complexion will surely twinkle!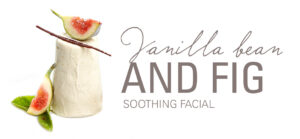 Vanilla Bean and Fig Soothing Facial
BEST ENJOYED: Happily radiating
THE MOOD: With tidings of comfort
THE EXPERIENCE: Read More
Oh how divine. Here's to your complexion receiving the warm toasting it deserves. A pre-cleanse, with vitamin E-infused towels, opens pores before a soothing Green Tea Milk Wash adds a dose of calm to inflammations. An aronia fruit extract & rose water tonic follows before a burdock root and mango butter facial polish. This buff is filled with milk proteins, amino acids and lactic acid that soothe pores and any breakouts. A renewing chocolate and fig vitamin serum is painted onto face and it is chock full of antioxidants. The serum nourishes skin and gives a glowy appearance. Finish with a comforting three milk moisturizer and under-eye serum to erase the look of fine lines. Oh joy!

Bountiful Berries Anti-Aging Plantfoliant Facial
BEST ENJOYED: Make it all about youth
THE MOOD: Clear and beaming!
THE EXPERIENCE: Read More
Begin this youth-defying facial with a creamy green tea and coconut milk cleanse to gently rid complexion of bacteria and makeup. Next, banish the look of pores with a rose water and aronia berry extract tonic just before a minty plantfoliant™ with 5 botanicals leaves you gleaming! Next, feel the firm when a delicious banana puree and New York-grown echinacea mask is painted onto complexion. As you relax in this tightening blend, hands are massaged with a quinsyberry extract super oil – loaded with vitamin C to improve skin texture and brightening. You'll wine down with a resveratrol serum, full of super fruit vitamins and nutrients. Finally, you can smooch crow's feet goodbye with an under-eye transforming serum and a youth-defying, peptide-enriched coconut milk moisturizer.

Chocolate & Strawberries Facial Pore Refining & Nourishing
BEST ENJOYED: After happy hour with your love
THE MOOD: Berry grateful for you
THE EXPERIENCE: Read More
We're not sure if it's the wine or the love in the air, but this treatment feels like cloud nine! A calming milk wash wipes the slate clean. Then, skin experiences a strawberry and lavender extract exfoliation with a buffing polish rich in vitamin C – perfect for reducing the appearance of pores and redness with its antibacterial and anti-inflammatory properties. A dreamy wrinkle-defending and skin revitalizing chocolate mask with CoQ10 treats skin to a large helping of antioxidants. Next, a pristine rose water and Aronia berry extract tonic is applied to minimize the look of pores, giving skin another deep drink of antioxidants. Ready for more chocolate? Wine not! A cocoa and organic fig vitamin serum is applied to replenish pores from the day's stresses, adding radiance with vitamins C & E. Finish this lavish affair with a Three Milk Ageless Moisturizer and powerhouse eye serum to send crow's feet packing!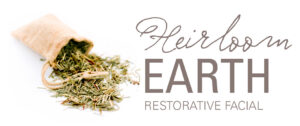 Heirloom Earth Restorative Facial 
BEST ENJOYED: In a timeless space
THE MOOD: Beginning again
THE EXPERIENCE: Read More
Your awakening begins with our creamy, hydrating Green Tea Milk Wash cleanser. Red Arizona montmorillonite clay and fine pumice grains help skin begin again, while Peat Perfection – a bionutrient, age-old plant matter -- rapidly soothes, moistens, and snuffs out any irritations or itchy ailments. Next, bask in a powerhouse serum ripe with fruit and vegetable high-antioxidant extracts and resveratrol from winery grapes. Then, a botanical blend of three milks and an age-easing peptide thoroughly moisturize with line-releasing results. Finally, you look years younger with the application of Crow Catcher, a peptide-enhanced silky veil that imparts an instantly addictive eye firming effect that lasts and lasts. The best of earth, plant and peptides!

Cucumber Avocado Refresher Cooling Quencher Facial
BEST ENJOYED: For clean, velvety replenishment
THE MOOD: A little Guac will do ya
THE EXPERIENCE: Read More
This fresh cut facial includes a host of farm favorites from tea and cucumbers to grapes and avocado, to bring new life to dull skin. It begins with a creamy, hydrating cleanser that includes cucumber extract and polyphenol-rich green tea, with a minty-fresh finish. Next, skin soaks up a wholesome, exfoliating blend of green clay, green tea, rice powder, whole milk and more. After this fine smoothing, prepare for a cool and luscious avocado butter, oil and extract mask that locks in moisture. Prepare for vitamin overload! A powerhouse resveratrol serum is applied with nearly six times the antioxidants as leading department store moisturizers, including gotu kola, unripened fruits, and vegetable compounds to help your skin fight free radical damage and repair texture and vibrancy. A peptide-enhanced Three Milk Moisturizer helps lessen the look of deep wrinkles, while Crow Catcher Eye Serum helps to transform by smoothing the look of fine lines and crow's feet. Farmtastic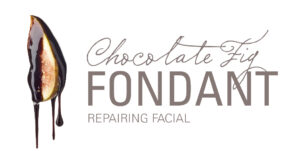 Chocolate Fig Fondant Repairing Facial
BEST ENJOYED: Worries melting away
THE MOOD: Recouped in bliss
THE EXPERIENCE: Read More
Glow in your natural beauty with this repairing and replenishment – it's a holiday vacay for complexion! Begin with a gentle green tea extract cleanser for a fresh slate. Next, an aronia fruit extract and crisp rose water tonic is applied. You're then buffed to silky suppleness with an Arizona red clay exfoliant. You will bask in the delicious notes of fresh baked chocolate cake when a softening CoQ10 firming mask is painted onto forehead, cheeks and chin – a blend featuring coconut oil to soothe any inflammation and skin irritations caused by plunging temperatures. While basking in this mask, hands and feet are cocooned into their own wonder serum – a chocolate and fi g glaze, packed with vitamins A, E and K to firm and add a glow to fingers and soles. This vitamin-rich glaze is then massaged into complexion to add nourishment and a glowy look to skin. To end, a milk moisturizer and under-eye transforming serum are applied to top off.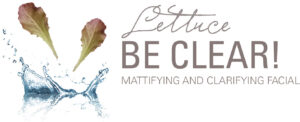 Lettuce Be Clear! Mattifying and Clarifying Facial
BEST ENJOYED: Glowy and green.
THE MOOD: Kale makes a complexion gorgeous
THE EXPERIENCE: Read More
It's a new way to refresh! Oily-prone skin finds its balance in this mattifying facial. We begin with a foaming micro kale and green tea extract wash. You'll get lost in this cleanser's refreshing scent as the superstar ingredient, full-spectrum Hi Bio™ Hemp oil, removes oil and makeup. Get your greens with a cucumber water tonic with triple hydroxy acids that delivers a fast refresh and a healthy balance to pores! Next, a minty plantfoliant™ with 5 botanicals reveals the silky softness you had just beneath the tough stuff. Before we end, complexion is treated to a delicious glycolic mask – chock full of replenishing coconut milk and Texas honey. Skin is then illuminated with a peptide-enhanced brightening serum, while crow's feet are toast with an eye-transforming serum that instantly diminishes the look of lines. Finally, total weightless hydration is yours with a FHF-grown micro kale extract moisturizer that delivers a clinical ageless peptide.

Lavender & Berries Yogurt Relaxation Soother Facial
BEST ENJOYED: Reclining and Unwinding
THE MOOD: Hello Mellow!
THE EXPERIENCE: Read More
Settle in for a whipped shea butter exfoliation and simmer down with a gentle lavender-hibiscus steam towel application. Let your mind wander into fields of strawberry and lavender as you are gently exfoliated and nourished with a luxurious blend of rice powder, strawberry fruit extract, whole milk and organic lavender buds. Your journey to youth is merely beginning with a yogurt mask that is specially formulated with natural lactic acid that works to prevent premature aging. Quench your skin with peptide-enhanced skin brightening serum. A Crow Catcher Eye Serum treatment completes the transformation.

Peat Purity Vegetative Calming Facial 
BEST ENJOYED: In an oasis of calm
THE MOOD: High. Light. 
THE EXPERIENCE:Read More
Leave your lipstick at the door. This totally enveloping facial removes the extras of modern time and imparts pure, skin-calming wonder. We begin with a steaming, rosemary-mint neck wrap and creamy coconut cleanser that leave skin dewy. Next, a whipped micro-sugar polish sloughs skin smooth. An age-old peat purity mud infuses skin with mineral and plant bionutrients that rapidly relieve, instantly soothe, and moisten completely. Three Milk Ageless Moisturizer, a botanical hydrating peptide moisturizer, releases wrinkles to the wind, while Crow Catcher, a peptide-enhanced serum, banishes fine lines around the eyes. After this vegetative facial, you may want the full body replenishment too.

Strawberry Lavender Himalayan Pure Clarifying Facial
BEST ENJOYED: With two sugars in a floral print teacup
THE MOOD: Spring-cleaning for your skin
THE EXPERIENCE: Read More
For the fine china of facials, we begin with a hydrating Green Tea Milk Wash that soothes with coconut milk and green tea extract. Pour another cup of tea as a wholesome exfoliation mask with rice powder, strawberry extract, witch hazel, clay and organic lavender buds smooth your skin, sending free radicals on a sabbatical while cleaning and minimizing pores. Drift off with a lavender-hibiscus steamed towel compress with Himalayan salt and organic flower petals. Now that you're feeling enlightened, we'll pep you up with firming peptide-infused Three Milk Moisturizer and Crow Catcher Eye Transformation Serum. You'll feel on top of the world!

Watercress Moisturewave Hydrating and Balancing Facial
BEST ENJOYED: The tides are turning on hydration
THE MOOD: Quenched.
THE EXPERIENCE: Read More
Give complexion the gift of glow! This moisturizing affair begins with a green tea and coconut milk cleanse to clear the slate clean for a cucumber water and phytonutrient lettuce tonic. This step helps clarify and balance oils with FHF-grown red lettuce varieties that are rich with antioxidants, phytonutrients and vitamins A & K! Complexion is then buffed smooth with a minty plantfoliant™ with 5 botanicals.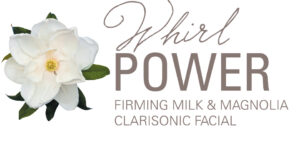 Whirl Power Firming Milk & Magnolia Clarisonic Facial
BEST ENJOYED: To get your glow back
THE MOOD: Sweepingly refreshing
THE EXPERIENCE: Read More
Get ready for the ultimate in glowing radiance! After a refreshing cleanse with Green Tea Milk Wash, your skin is prepped with a whipped shea sugar facial micropolish and then cleansed and exfoliated to porefection with a Clarisonic facial brush - clearing the way for a raw honey and active yogurt mask to deep cleanse pores, which helps pull out toxins and create a firm, poreless appearance. Next, bask in Three Milk Ageless Moisturizer, a rich, creamy botanical milk with firming peptides that instantly works to spur on healthy collagen and reduce deep wrinkles. Finally, a steaming antioxidant compress with honey magnolia sparkling soak, rich in grape seed and olive fruit oils, brings a gloriously dewy grand finale finish. An application of advanced peptide Crow Catcher Eye Serum smooths fine lines.

Repair & Replenish Plantiful Fruit Enzyme Facial
BEST ENJOYED: Thousands of years in the making
THE MOOD: Calm, cooled and complexion perfected!
THE EXPERIENCE: Read More
A wondrous facial chock full of vitamins, minerals and nutrient mud – yes, mud – awaits! Skin is cleansed with a charming pH-balanced green tea extract facewash and then spritzed with a crisp aronia berry extract tonic. A natural exfoliating fruit acid mask is painted on to resurface skin texture and boost radiance! This will tingle, so skin receives a calming peat mud mask following your exfoliation. This mud mask is rich with nourishing ingredients like allantoin and kaolin clay. A resveratrol and antioxidant serum helps turn back the hands of time, followed by a hyaluronic gelée moisturizer. End with an eye transforming serum to beautify those peepers.