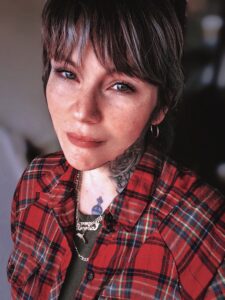 Owner | Master Stylist | Rogue Hairstylist
Donna Rose  

Before she was a licensed cosmetologist, Donna had her hands in the fashion industry at the age of 20, traveling to New York City and Vegas as a buyer for a fashion forward clothing boutique in Baltimore. During this time she developed a love for hair working below Geometrics, the salon that styled the hair of the infamous John Waters films. After spending time in the fashion industry, and around people in the movie and hair industry, naturally she became obsessed with wanting to do hair herself.
Graduating cosmetology school in 2004, Donna excelled in hair artistry with natural talent and advanced training by Redken Artists, allowing her to quickly build a following. Working in an exclusive, high end Redken salon for some time, she then went on to work at a private, award winning salon on the waterfront in Baltimore City. During her time there, she was taught advanced Wella color techniques and continued her education by attending multiple classes, constantly improving her techniques. When not at the salon, she kept busy styling hair for photoshoots and fashion shows as well as juggling multiple side projects that would expand her experience as an artist and a business woman.
After working for a private salon for some time, she branched off and launched her own company 4TEN Media, allowing her the freedom to work on video and photo shoots. This took her creativity to the next level and taught her how to bring out the best in her client's image. During her travels from California back to Maryland, she decided the next step in her evolution as an artist was to open a salon, and thus, Saint Salon was born, to serve people that want to not only look their best, but feel their best as well.
Donna opened Saint Salon in Harford County serve a community that lacked advanced cutting and coloring techniques found in high end, city salons. Having been a Baltimore hair stylist her whole career, she decided to create her salon a  bit north of the city to extend salon culture to those desperately in need of something current and fresh.
When Donna is not behind the chair and educating other stylists on advanced cutting, coloring, and marketing techniques, you can find her training her AKC Boston Terrier for the show ring. She is a seafarer and, during the warm months, you can find her on her cabin cruiser boat on the Chesapeake Bay.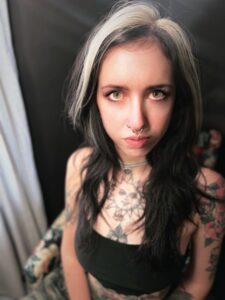 Stylist 
Who am I? Allison Rapisarda. 24 years old. Aries. Living in Beautiful Bel Air, MD. I've had my cosmetology license since 2017. Always happy to be doing what I love. I am willing to replicate hair cuts, colors, and styles that you like or create something completely new.
My style ranges from classic to fantasy, modern balayage to retro 70's cuts. Killer hair from here to there, I work well with all age groups and hair types.
Stylist 
My passion for the beauty industry started at a young age with makeup and eventually that led to my 2 year apprenticeship in 2017 to get my cosmetology license. I absolutely love meeting new people and getting a feel for their personal taste and style so I can make them feel like the best version of themselves.
Lived in color and balayage is my specialty. I love getting my hands in long hair. When you are in my chair you have my undivided attention from start to finish as I craft your vision with my expertise.
Stylist 
"Let me introduce myself, I'm Stephanie, wife and mom of two. I've been doing hair for seventeen years now. I've worked from Hair Cuttery and Great clip, to high end salons. Now I am establishing myself at Saint Salon, an upscale boutique salon specializing in custom color and haircuts. Since I was a child, I've had a passion for hair and makeup which led me to school plays where I practiced the art. After graduation, I was off to cosmetology school.
Personally I enjoy being able to transform your hair placing the integrity of your hair at the forefront. If you are looking for a fast paced stylist, I'am not the stylist for you. I pride myself on a thorough consultation, attention to detail making sure every client's wants and needs are met within reason. With that being said I hope I can make your hair dreams and goals come true."
Junior Stylist
"Howdy, I'm Finn and I am here to fulfill your wildest hair and beauty dreams. I grew up in Belair, Maryland and studied cosmetology at Paul Mitchell, but I'm always learning and adapting further here at Saint Salon. I love to work with all textures and types of hair, just describe your vision and I will do everything in my power to make it a reality!
My own style is gothic and earthy, with a whimsical spin. I'm particular about what I like, so don't be afraid to be particular about your own style and what you're into. I love to work with vivid colors and creative patterns, and I love a good challenge. I'm passionate about helping anyone who's in my chair feel beautiful and confident, and most importantly comfortable."
Caroline Wittman 

Massage Therapist RMP 
Caroline is a registered massage therapist from Maryland. She graduated from the Holistic Massage Training Institute in Baltimore in 2019 and specializes in Swedish and Deep Tissue massage. Caroline takes the client's goals and needs for the massage and incorporates them in a wholly relaxing and therapeutic experience. She is excited to work with you to help achieve your goals for each session!
Wednesdays 11-6
Saturday 10-4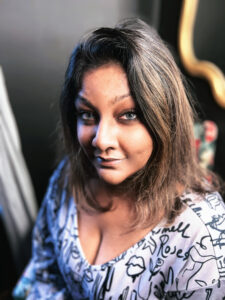 Naderia Buck  

Esthetician 
Originally born and raised in New York, moved to Maryland in 2005.My background is Caribbean, my family is originally from Guyana.  I've worked in the medical field from my early 20s til present I've worked in dermatology to therapeutic blood services.I have always had interest in skin care because of my personal journey I have personally dealt with horrible skin from teen til present you name it acne,scars, melasma hyperpigmentation. I have tried all things from the doctor which never worked for me in the long run. So I did a switch and went to holistic care, a natural aggressive approach and I have finally achieved it!
I decided to go to Aveda Institute in Bel Air and work on my goal of obtaining my licence of Esthetics. Why did I choose Aveda ... because of their extensive knowledge in plant based products and skin care.
I was approached with an opportunity to bring my knowledge and expertise into Saint Salon and bring a new experience for clients whether it be an essential pampering service or for me helping you bring your skin to its vitality of youth. I feel your skin is something personal to everyone in everway and I want to bring your confidence to par.
I currently work for NIH (National Institute of Health) as a Apheresis Specialist in transfusion therapy where I collect platelets from donors to patients who are terminally sick in the hospital.  I thrive on helping others and I love what I do. When I'm not at work I will be here with you making you feel  your greatest to being at home with my 3 awesome kids exploring and learning. I'm a very spiritual person who's into chakras and holistic approaches to life. I also love making natural products suited to skin care needs.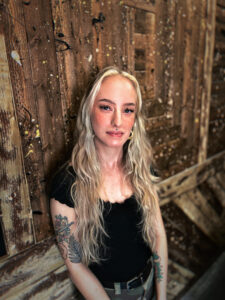 Saige Ports  

Junior Esthetician 
I have loved makeup, skincare and all things beauty for as long as I can remember. I grew up watching makeup tutorials and painting my face and my friends faces. I am a self proclaimed skincare junkie and I love trying new products to see what works and what doesn't. 
I took a leap of faith and decided to start esthetician school at Aveda Institute in Bel Air, and as of August 2022 I am a licensed esthetician. I specialize in makeup looks, facials, brow laminations/waxing and lash lifts. I love being a creative and enhancing your natural beauty.